Set Up Your Appointment Now!
Salt Bath Gift Certificates Available
661.803.1952
(Closed on Sundays)
1 Hour Massage: $80.00
1-1/2 Hour Massage: $110.00
Infertility Massage: $125.00
Chair Massage: $75.00*
HEAVENLY HEALING MASSAGE
Care for your body with the Heavenly Healing Massage. This full-body style of massage blends long strokes mixed with deeper strokes into the aching muscles of the body that my intuition guides me to help release your pain and stress from your body. This exceptional style is adapted to your particular body needs and your preference of pressure, not too hard, not too soft. Let your mind, body and spirit escape reality with the fantastic Heavenly Healing Massage!
INFERTILITY MASSAGE
Most every women dreams of someday being a mother. However, sometimes the body doesn't create what the mind wants. An infertility (fertility) massage can help women and couples create their dreams of parenthood. This specialized massage works both the reproductive and digestive systems in creating the healthy environment within the body to hopefully achieve the goals of pregnancy. *(Please note that this specialized massage cost will be different then above prices)
GOLFERS MASSAGE
This massage targets golf-specific muscle groups such as shoulders, elbows, low back, hips, legs and the forearms. It incorporates both Swedish and deep tissue massage techniques in what can be a full-body massage or just those specific golf-tender areas, it's up to you. You will feel the tension and soreness dissipate. The Golfer's Massage can be valuable to your body for either pre-game conditioning or to manage post-game soreness. Either way, it can help improve your body and your game.
MATERNITY MASSAGE
Maternity massage is a soothing, full body massage specifically for the soon-to-be mother. While a pregnant woman's belly expands and her body changes, this massage aids in those discomforts that come with pregnancy. Your massage can be utilized on the special pregnancy "pillow" that allow you and your belly to be in a face down position or side-lying, whichever you prefer. Maternity Massage aims to relax, improve circulation and provide comfort during this exciting time of change.
CORPORATE CHAIR MASSAGE
*Minimum of 1 Hour: $75.00/Hour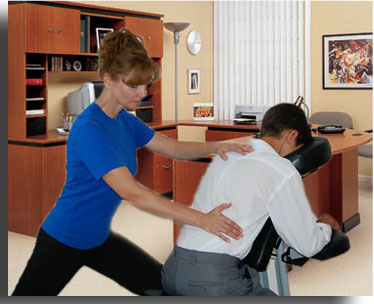 Create a Heavenly Healing retreat in the midst of your busy office environment. Studies have shown that the brain begins to recharge in just a few minutes. In 10, 15 or 20 minutes the brain and body can be re-energized to improve your employee's moods and productivity. Corporate Chair Massage can be scheduled for weekly, bi-weekly or monthly visits to your place of business - visits guaranteed to keep your employees productive, energetic and feeling good about themselves and their careers. This in turn benefits your company to happier and more productive employees.